Memoirs of Natalya Andreyevna Mayasova(page 1)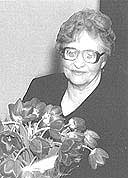 I worked in the Zagorsk History and Art Museum over seventeen years between 1945 and 1962 and I want to share my memoirs with you.

I came to the Museum in March 1945. The Great Patriotic war was not over, but the Museum treasures, saved in Solikamsk, had returned from the evacuation. The permission to be present at their receiving was a great joy for me. My destiny was determined at once. I realized that my place was not at school where I worked through the whole war, but here, with these greatest works of Russian art. The time was hard – there was lack of both finances and people.
Since 1929 the Museum had had a local history and anti-religion status. Among its constantly changing directors a part of historians there sometimes were drivers or loaders. At the beginning of 1945 the Museum was luckily managed by an architect V.K. Ryakhovsky, deputy director was an art historian with an experience of the Leningrad museums Yu. A. Lebedeva (who subsequently maintained a thesis on Andrei Rublev's art. Chief curator was an old and devoted Museum specialist (working since 1969), historian A.M. Popova-Kurbatova. The Museum had a restoration section, supervised by I.V. Trofimov since 1938. The authoritative Scientific Council included competent art historians, historians, archeologists, architects and engineers. All those circumstances provided an opportunity to restore History and Art Museum Status.

One of the first steps in that direction was the Exhibition of Old Russian Art in the Monastery Sacristy created under direction of Yu. A. Lebedeva. I also took part in its organization. Installing was carried out by an experienced engineer N.N. Saveliev. He also assembled the iconostasis of the Trinity Cathedral restored by a famous specialist N.A. Baranov. The Exhibition of Old Russian Art, its decoration and exhibition complexes changed several times, but its content was preserved as determined in 1946. For the 800th anniversary of Moscow, celebrated in 1947, A. M. Kurbatova and I organized the exhibition "The Defense of the Fortress of the Trinity-St. Sergius Monastery against the Polish-Lithuanian Invaders at the Early 17th Century". The exhibition was housed in the Water Tower. The interior of the Metropolitan Chambers was reconstructed for demonstration. When the Chambers and other Lavra buildings passed to the Moscow Patriarchy, the exhibition "Russian Art of the 18th Century" was opened in the former Vicegerent Residence. It was designed by an art historian O.E. Esipova (Scientific Secretary between 1945 and 1951). She was inexhaustibly energetic despite her serious disease. Her wonderful kindness united the staff for many years. Her exhibition was greatly changed, but preserved. Leaving the Museum, she was in charge of the Art Works Archive till her death in 1972. The Archive belonged to the USSR Ministry of Culture and occupied two Lavra towers.