For the Museum Visitors


1. The Museum topography

2.Opening times

3.Excursions
4.Festive programs

5.Souvenirs and literature
WELCOME TO OUR MUSEUM!(page 1)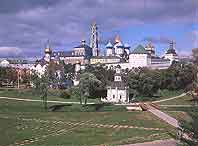 Sergiev Posad is "a pearl" of the Golden Ring, one of the most attractive towns in Russia. It is situated 70 kilometers to the north-east of Moscow. There wonderfully co-exist remote ages and modern life, history and present day. The architectural ensemble of the Trinity-St. Sergius Monastery is inscribed on the UNESCO List of the World Cultural Heritage. The Ancient Trinity Monastery and the earliest surrounding settlements participated in the important events in history of the Russian State. In the picturesque town and its environs lives and worked famous writers and artists: M.M. Prishvin, V.A. Favorsky, A.V. Lentulov, V.A. Kandinsky, etc. Contemporary Sergiev Posad with population 115 thousand is a developing center of cultural, educational and business tourism.

You can get here

by car: 70 km from Moscow via the Yaroslavsky Highway to prospect Krasnoy Armii in Sergiv Posad. The parking places are to the right of the prospect not far from the Monastery walls.

by electrical train: from Yaroslavsky Station, "Sergiev Posad" stop (it will take about an hour and a half).

by Bus ¹ 388: from VDNKH Metro station to Sergiev Posad. Then you can go by a bus (or a minivan) to the "Center" or walk along Sergievskaya ul. (street) to the observation platform on the Blinnaya gora ( mountain) and admire a magnificent view of the Trinity-St. Sergius Lavra. Then, a ten minutes walk along the prospect Krasnoy Armii will lead you to the Museum.