The Museum
History of the Museum

1. The Main Steps of the Museum Activity
2.History of the scientific research
3.History of the educational activity

Scientific Research
- conferences and seminars outside the Museum
- conferences and seminars at the Museum
expeditions:
-- archaeological
-- collecting monuments of culture and history

The educational activity
Conferences and Seminars (History)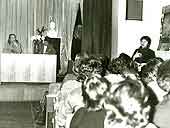 The results of the scientific research are presented at the regular conferences. Since the 1950s the conferences on different aspects of history and art heritage of the Trinity-St. Sergius Monastery have been organized in the Museum. The active collecting activity was reflected in the conferences of the 1960s. The Museum history and the problems collecting were first discussed at the conference dedicated to the 100th anniversary of V.I. Lenin.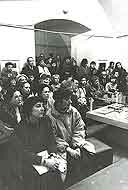 Since the 1990s the annual conferences are dedicated to the discussion of different problems. The famous scientists and museum specialists from Russia and other countries took part in them. In 1996, the conference "Russian Folk Art" was held in memory of Olga Vladimirovna Kruglova, a well-known scientist and collector. The participants were from the Scientific Research Institute of Theory and History of Fine Art of the Russian Academy of Arts, from the State Scientific Research Institute of Restoration, from the Institute of Russian Literature (Pushkin House) of the Russian Academy of Science, from the All-Russia Museum of Applied and Decorative Art. Written documents were discussed at the conference in memory of Evgeniya Nikolayevna Klitina who was the chief curator for many years. The conferences "The Stone Age of the European Lands" (1997) and "Folk Culture and Orthodoxy" were internationally recognized (2003).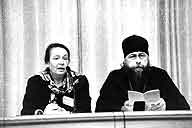 Since 1998 the biannual conference "The Trinity-St. Sergius Lavra in History, Culture and Spiritual Life of Russia" has been organizes by the Museum in co-operation with the Theological Academy. It is dedicated to different problems of history and art heritage of the Trinity-St. Sergius Lavra, that is why there take part historians, theologians, art historians, philologists, restorers from the Institute of Russian History of the Russian Academy of Science, Institute of Russian Literature of the Russian Academy of Science, the Russian Institute of Art History, Moscow State University named after M.V. Lomonosov, Moscow Theological Academy, museums of Moscow, St. Petersburg and other cities. The scientists from the USA, Germany, Poland, Italy, Ukraine, Serbia delivered their reports at five previous conferences.