The Sacristy of the Trinity-St. Sergius Lavra of the 14th - 19th cc. (Page 3)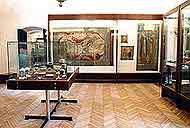 Jewelry art influenced the development of icon-embroidery. Items, embroidered in the royal workshops, were decorated with pearls, precious stones, gold and silver threads. The embroidered items, produced by the workshop of Princes Staritsky, are characterized by superb technique, elaborate composition and bright color-scheme. The best traditions of Ivan the Terrible's time were kept and developed at the epoch of Boris Godunov. The documents recorded several special occasions of the tsar's visit to the Monastery. Those visits were accompanied by generous donations. That period is represented in a separate hall.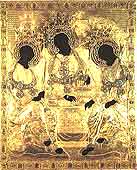 Godunov's jewelers were famous for niello on gold, which was especially brilliant on the set of liturgical vessels displayed in the Museum. Niello was used together with other techniques in decoration of the mounting for the icon "The Trinity of Old Testament" painted by Andrei Rublev. The main parts of the mounting were made by the order of Boris Godunov. Subsequently they were supplemented with other details. In 1602 – 1603, Boris Godunov " gave an Archimandrite cap as a donation" . That was the mitre with a gold crown, gold plaques, pearls and precious stones – amethysts, emeralds, sapphires.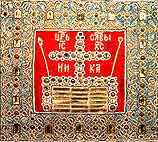 Ňhere were talented needlewomen and artists in Boris Godunov's workshops. The purificator showing the Trinity and the frontal "The Queen did stand" are marked by luxury, decorativeness and high technical skill. "The Pearl Icon-Cloth" of 1599 is a masterpiece of ornamental embroidery. It is decorated with pearls, gold plaques and red, blue and green precious stones.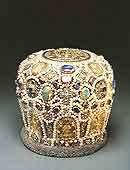 The works of the 17th century gold- and silversmiths are varied in materials and techniques. They are decorated with enamel, chasing, precious stones. The mitre of Princes Mstislavsky, presented to the Monastery in 1626, is a characteristic specimen of that period. All decorative details, outlined in pearls and perfectly assembled, look extraordinary beautiful and luxury. Fine engraving and niello decorate the gold crosses. One of them was presented by Irina, the daughter of Tsar Mikhail Feodorovich. The other was donated by the relatives of the Duma Deacon Ivan Gramotin. The cross, produced by Andrei Malov is exceptionally beautiful.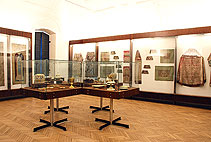 The 17th century embroidery is remarkable for accentuated decorativeness, skilful and varied stitching. The Pall "St. Savva Storozhevsky" is characteristic. It's background imitates precious textile – brocaded silk . The most refine embroidery marks the works produced in Stroganov's workshops. Ornamental embroidery is represented by diverse samples. The splendid epitrachelion of red velvet is embroidered in pearls supplemented with gold plaques, small garnets and turquoise.