"World of a Russian Village"
(Opening ceremony)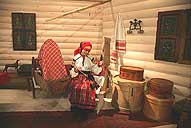 In November 1, 2008, the Sergiev Posad State History and Art Museum-Reserve organized a ceremonial opening of the permanent exposition of Russian Folk Art. The exposition is housed in the new central building of the Historical and Architectural Complex "Konny Dvor". The exposition presents 756 monuments of folk art from European Russia. Among them are specimens of carving and painting on wood, ceramics, embroidery, lace, separate items and complexes of female and male clothing for everyday use, for gala occasions and for rituals. Theatrical arrangement of the expositional space and ensemble method of display helped to represent the world of a Russian village in its integrity and reality. The exposition reflects the life of a member of this world from birth to death, relations within a family and between families in a village community.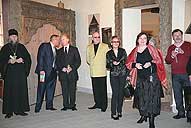 The new exposition was possible due to the activity of the Museum research workers O.V. Kruglova, L.E. Kalmykova, V.M. Zhiguleva, L.A. Shitova, L.M. Zaitseva, S.V. Gorozhanina, G.V. Sokolova, V.A. Demkina, T.A. Polosinova, who had collected and preserved works of folk art for many years. At present few Russian museums could compete with the Sergiev Posad State Art and History Museum in content and variety of the folk art collections.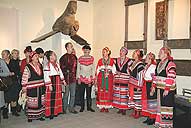 Aconsiderable part of items, discovered during expeditions, was restored by the specialists of the Grabar Restoration Center and by the Museum restorers: M.P. Ryabova, A.N. Belyakova, T.A. Goroshko, G.V. Zhigareva, M.G. Soboleva, N.V. Grekova, N.N. Shelonnikova, O. Voskresenskaya. The opening ceremony looked like a theater performance. The exposition presented "living pictures" and a peddler with "trifles". The guests were received in the yard by the "Moskovia" folklore group directed by N. Tonshin (Sergiev Posad, Educational and Entertainment Children's Center "Oktyabr" )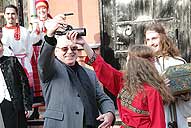 General Director of the Sergiev Posad State History and Art Museum Makoyev F.Kh. congratulated all guests and handled the symbolic key to the Chief of the Department of Russian Folk, Decorative and Applied Art Gorozhanina S.V. Head of the Department on Preservation and Popularization of Cultural Heritage of the Ministry for Culture of the Moscow Region Kutsenko E.V. congratulated the Museum staff and handled 11 grateful letters. Other 25 Museum workers received diplomas and bonuses.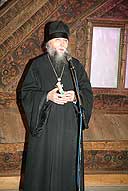 Serious scientific research and collective work was mentioned in the speech of Professor of the Moscow Theological Academy Archimandrite Makary (Veretennikov). Among the guests were Deputy Chairman of the Moscow Regional Duma I.N. Zhukov, Duma Deputy from Sergiev Posad, people's artist of Russia V.M. Gordeyev, Mayor of Sergiev Posad S.A. Persianov, Museum workers from Dmitrov, Serpukhov, etc. In the opening ceremony took part creative teams: family duet of Irina and Mikhail Drukov (Sergiev Posad, House of Culture "Yunostj"), folklore group "Moskovia" directed by N. Tonshin (Sergiev Posad, Educational Children's Center "Oktyabr"), fashion theater "Arabesque" directed by E.M. Volkova, M.A. Buzina State Educational Establishment ¹ 111, Pavlov Posad).


Exposition "World of a Russian Village"