The Sacristy
Expositions:
"The Sacristy of the Trinity-St. Sergius Lavra of the 14th – 19th cc." (icons, manuscripts, icon-embroidery , church utensils)

Expositions:
Konny Dvor
Expositions:
Exhibitions
The Main Building
Exhibitions:

Local History Department Exhibitions:
At the Trinity in Sergiev Posad
(the illustration of the city's life)
Old archive
New Archive
Exhibition "At the Trinity in Sergiev Posad"
(Opening ceremony)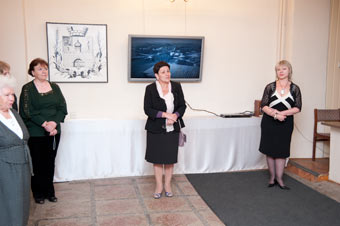 In June 22, 2011, the exhibition "At the Trinity in Sergiev Posad" was opened in the Museum Local History Department. They recalled the sad day in our history – 70 years since the beginning of the Great Patriotic war. Deputy General Director for Scientific Research S.V. Nikolayeva said that the war and our town contribution to the great Victory remained the main themes since the department was organized. They are reflected at the exhibition "A Letter from the Front" housed in two halls. First Museum Deputy General Director G.I. Subbota congratulated everybody with the new exhibition and thanked the Museum friends – citizens of our town - for their help in the formation of the Museum collection.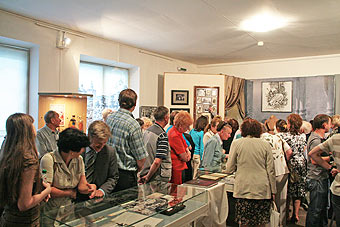 The new exhibition covers the earlier period and the event of 1862, when the railway connected Moscow with Sergiev Posad that influenced the subsequent development and the appearance of our town. Head of the Department of the 20th c. History and Culture of Sergiev Posad District V.V. Protopopova stressed that the exhibition was prepared by f several Museum sections and the coordinated activity of the big collective guaranteed the success. The ceremony was closed with the excursion guided by scientific research worker L.I. Girlina.