The Sacristy of the Trinity-St. Sergius Lavra of the 14th - 19th cc. (Page 1)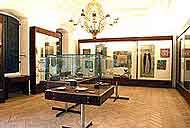 The exhibition presents the collection, which was historically formed in the Trinity-St. Sergius Lavra in the 14th – 19th cc. The collection is housed in the Monastery Sacristy and the Vicegerent Chambers, situated at their historical place within the walls of the Monastery. The collection comprises rare and unique monuments: icons, manuscripts and old printed books, icon and ornamental embroideries, items of gold and silver. They were donated by grand and appanage princes, tsars and emperors, noblemen and representatives of different layers of the society.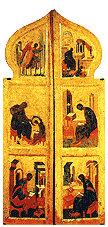 The separate hall on the ground floor houses the collection of Old Russian fine art represented by outstanding specimens of icon-painting and miniature book illuminations. The Royal Doors were painted by the artists from the team of Andrei Rublev who was invited to decorate the Trinity Cathedral in the 1420s. "The Virgin Perevleptos" and "Anna with the Child Mary" are rare monuments of the 14th century Byzantine and South-Slav monuments. The Museum collection presents the main iconographies of the Virgin: Hodigitria, Eleousa, the Virgin of the Sign - and their numerous variants: the Virgin of Vladimir, the Virgin of the Don, the Virgin Bogolubskaya, the Virgin of Tikhvin, the Virgin of Jerusalem, the Virgin Grebenskaya, the Virgin of Yakhroma, the Virgin of Kazan, the Petrovskaya Virgin, the Pimenovskaya Virgin, etc. These icons reflect an extraordinary popularity of the Virgin in Moscow Rus.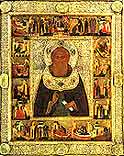 The Monuments from the icon-painting workshop of the Trinity Monastery occupy a important part in the Museum collection. The icons with the signature of the Monastery Cellarer Eustathius Golovkin, painted at the end of the 16th century on the boards of Venerable Sergius's shrine, are referred to outstanding works.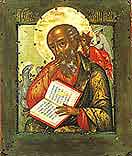 The exhibition presents various icon-painting schools of the 17th century. There are remarkable works of Godunov and Stroganov workshops, and the Armory Chamber. There are also works of an outstanding artist of the Armory Chamber of the Moscow Kremlin Simon Ushakov. He painted icons for the Trinity and Assumption Cathedrals in the Monastery in the 1680s.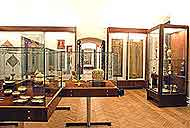 On the second floor of the Sacristy there is a part of the exposition demonstrating applied and decorative art of Old Russia. The exhibits were generally used for the church services in the Trinity St. Sergius Monastery. Made by gold- and silversmiths, carvers and needlewomen, they demonstrate aesthetic ideas of their time.