Exhibition "At the Trinity in Sergiev Posad" (p. 2)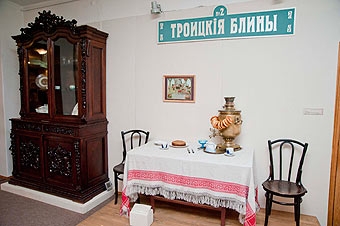 Hall 2:
At the beginning of the 20th century, Sergiev Posad was a major town in the Moscow Province. It had several industrial enterprises and developed handicrafts, including toy production. The town with population of over 20 thousand had about 250 various small shops, shops, taverns, pubs, storehouses. The Pancakes Yard was one of the establishments bringing income to the town. It paid land fee and taxes to the town treasury. The Pancakes Yard was under the hill behind the Chapel of the Pyatnitsky Well. The guests, who liked tasty meals of the hospitable hostesses, used to say: "If you did not taste pancakes, you did not really visit Sergiev Posad".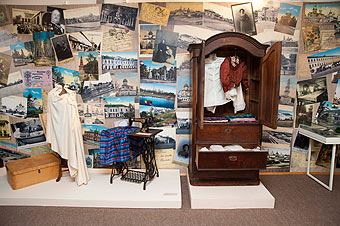 One of the walls in the second hall is occupied by a poster with ancient photographs of the town citizens, post-cards and letters. The poster is the background of the exhibition complex showing a milliner atelier of the 20th century "EVERYTHING FOR DRESS-MAKING" (reconstruction).

Exhibits: catalogues of textiles, early 20th century, France; jacket (velvet, beads); samples of textiles produced by I.F. Zyatsev's factory; sewing accessories: a needle bank, scissors, buttons, thimble, lace, ribbons and "Zinger" treadle sewing machine.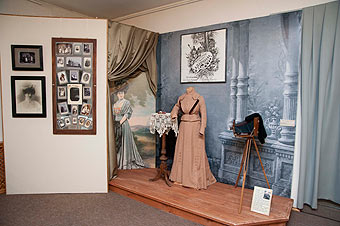 You can also see a fragment of A.P. Platonov's Photographic Studio (reconstruction). A.P. Platonov worked at the turn of the 20th century. The Photographic Studio was in the annex of the "new" hotel in Alexandrovskaya (now Karl Max) street. Subsequently Platonov bought a wooden house in Petropavlovskaya street (the 1st Shock Army street). The second floor was arranged as Platonov's private photographic studio, where the owner created portraits of the local residents and made photoes ordered by the Lavra. Platonov photographs received international awards: 1904 – Silver medal at the exhibition in Paris; 1905 – Silver medal at the exhibition in Liege (Belgium); 1906 – Highest reward at the International exhibition in Milan (Italy).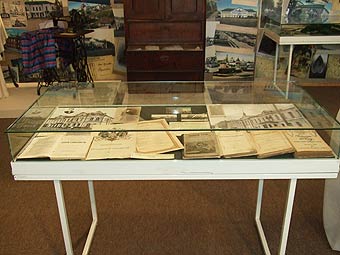 The Krasnogorsky market offered a variety of goods. For the reading public, and there were quite a lot of educated people in Sergiev Posad, there were book shops in the rows of shopping stalls. Among them M.S. Elov's shop in the New Row of Stalls was most popular. Elov sold books partially printed in the local printing houses, post-cards with the views of the Lavra and Sergiev Posad, commissioned by his shop.