The Trinity-St. Sergius Lavra: Architectural Ensemble,
Pages of History (14th – 18th cc.) (page 3)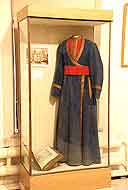 The third hall of the exposition demonstrates the last step in the development of the Monastery ensemble and the features of the New Time in its appearance. The honorary title of Lavra, granted in 1744, officially confirmed the Monastery position. In the 18th – 19th century the Trinity-St. Sergius Lavra was a place for numerous pilgrims arriving from different places. The tsar visits to the Monastery was an ancient tradition. Some rare exhibits, like a costume of a boy from the Lavra staff choir and ancient notes (hook alphabet referred to the second half of the 19th century), were connected with the gala receptions of the royal guests.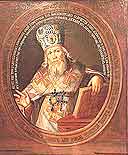 The activity of Metropolitan Platon (Levshin), who was the Lavra Father Superior, increased the Monastery dignity in the 18th century. The exhibition presents his portrait. The English gilded carriage was presented to Metropolitan Platon by Emperor Paul I. This luxurious carriage and the model of the country residence, called "Korbukha", illustrate a new style of the brilliant epoch.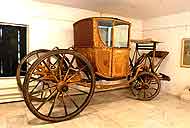 In the course of the 18th and 19th centuries many ancient monuments of the Trinity-St. Sergius Lavra were reconstructed according to the tastes of the time. The changes often played a negative role: annexes were added to the cathedrals, the cells were overbuilt, the fortress walls and many towers were turned into living quarters, the facades were repainted. Besides, by the beginning of the 20th century, many ancient buildings were in emergency state.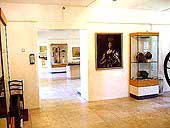 In 1920, when the Museum was founded, large-scale restoration and reconstruction works started. To insure the investigation of the architectural monuments the Architectural Department was organized in the Museum. The research workers of the department created expositions and temporary exhibitions showing the results of the investigations and the steps of the restoration. The materials, presented at the exhibition, help to perceive properly majestic and original beauty of the architectural complex of the Trinity-St. Sergius Monastery, created by many generations of talented Russian builders.