THE MUSEUM EXCURSIONS (page 3)
In the Local History Department::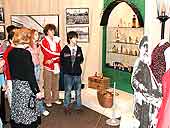 "Pictures of the Town Life" (Sergiev Posad in the Early 20th c.)
The excursion describes the views of old Sergiev Posad, occupations of its citizens and atmosphere of provincial life at the turn of the 20th century.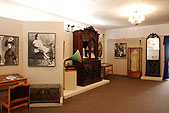 "Objects Recall" (Recent Acquisitions)
The excursion presents recent acquisitions supplementing the local history collection. The exhibits on display are article of clothing, shoes, objects of everyday life, pieces of furniture of the late 19th – the beginning of the 20th century. On the walls are enlarged copies of the old family photographs of the Sergiev Posad inhabitants.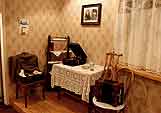 "Everything for the Front. Everything for the Victory".
It is a story about life in front-line Zagorsk in autumn, 1941, when there was formed the 1st Shock Army, that took part in the winter attack at the approaches to Moscow; about labor and war deed of the Moscow Region citizens during the Great Patriotic war.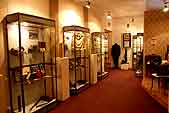 The review excursion at the Local History Department
tells visitors about life in Sergiev Posad in the 20th c. That was one of the most interesting periods connected with preservation of historical and cultural monuments, war and labor deed of the citizens during the Great Patriotic war, work of the famous Russian writers and artists.